PRODUCTOS
And we specialize in customized wristbands
Disposable One Time Using Vinyl RFID Wristband
one time using wristbands
[[[[[[[[[[[[[[[[[[[[[[[[[[[[[[[[[[[[[[[[[[[[[[[[[[[[[[[[[[[[[[[[[[[[[[[[[[[[[[[[[[[[[[[[[[[[[[[[[[[[[[[[[[[[[[[[[[[[[[[[[[[[[[[[[[[[[[[[[[[[[[[[[[[[[[[[[[[[[[[[[[[[[[[[[[[[[[[[[[[[[[[[[[[[[[[[[[[[[[[[[[[[[[[[[[[[[[[[[[[[[[[[[[[[[[[[[[[[[[[[[[[[[[[[[[[[[[[[[[[[[[[[[[[[[[[[[[[[[[[[[[[[[[[[[[[[[[[[[[[[[[[[[[[[[[[[[[[[[[[[[[[[[[[[[[[[[[[[[[[[[[[[[[[[[[[[[[[[[[[[[[[[[[[[[[[[[[[[[[[[[[[[[[[[[[[[[[[[[[[[[[[[[[[[[[[[[[[[[[[[[[[[[[[[[[[[[[[[[[[[[[[产品参数, 参数]]]]]]]]]]]]]]]]]]]]]]]]]]]]]]]]]]]]]]]]]]]]]]]]]]]]]]]]]]]]]]]]]]]]]]]]]]]]]]]]]]]]]]]]]]]]]]]]]]]]]]]]]]]]]]]]]]]]]]]]]]]]]]]]]]]]]]]]]]]]]]]]]]]]]]]]]]]]]]]]]]]]]]]]]]]]]]]]]]]]]]]]]]]]]]]]]]]]]]]]]]]]]]]]]]]]]]]]]]]]]]]]]]]]]]]]]]]]]]]]]]]]]]]]]]]]]]]]]]]]]]]]]]]]]]]]]]]]]]]]]]]]]]]]]]]]]]]]]]]]]]]]]]]]]]]]]]]]]]]]]]]]]]]]]]]]]]]]]]]]]]]]]]]]]]]]]]]]]]]]]]]]]]]]]]]]]]]]]]]]]]]]]]]]]]]]]]]]]]]]]]]]]]]]]]]]]]]]]]]]]]]]]]]]]]]]]]]]]]]]]]]
PVC Disposable RFID Wristbands offer both a great value and simple solution for entry control and visitor management, is extremely durable and is ideal for events that last for one or two days.
Disposable Wristbands are easily secured with one time using lock and strategically placed security cuts prevent the band from being removed without breaking or showing clear signs of tampering.
Name: Rfid Pvc One-time Using Wristbands
Material: PVC /Vilyn
Available Size: 250*31/270*34/290*28/252*40/247*50MM
Chip: LF:TK4100,EM4200,EM4305,T5577 etc.
HF:ISO14443A--NTAG213/215/216,MF 1K S50/4K S70,FM11RF08,MF DESfire EV1 2K/4K/8K,TOPAZ512,MF Ultralight/Ultralight C,MF Plus S/X(2K&4K) etc.
UHF:Alien H3
Frequency: 125Khz/13.56Mhz/860-960Mhz
Protocol: ISO14443A, ISO 11784, 11785, ISO 18000-2, ISO 7815
Reading range: 0.5Cm - 5CM, relative with readers.
Datas program: Variable numbers, URL, texts, etc, read only, encrypted
Craft: Logo printing, datas program, QR code, numbers printing, custom package.
Working environment: -25℃ to 70℃
Nfc Bracelet Application: widely used on campuses, amusement parks, buses, access control areas, concerts, and tickets and so on.
Our Services:
3-5 days fast samples making
Custom datas program
OEM/ODE capability. Custom size, shape, printing and material all available.
Size & Product Overview: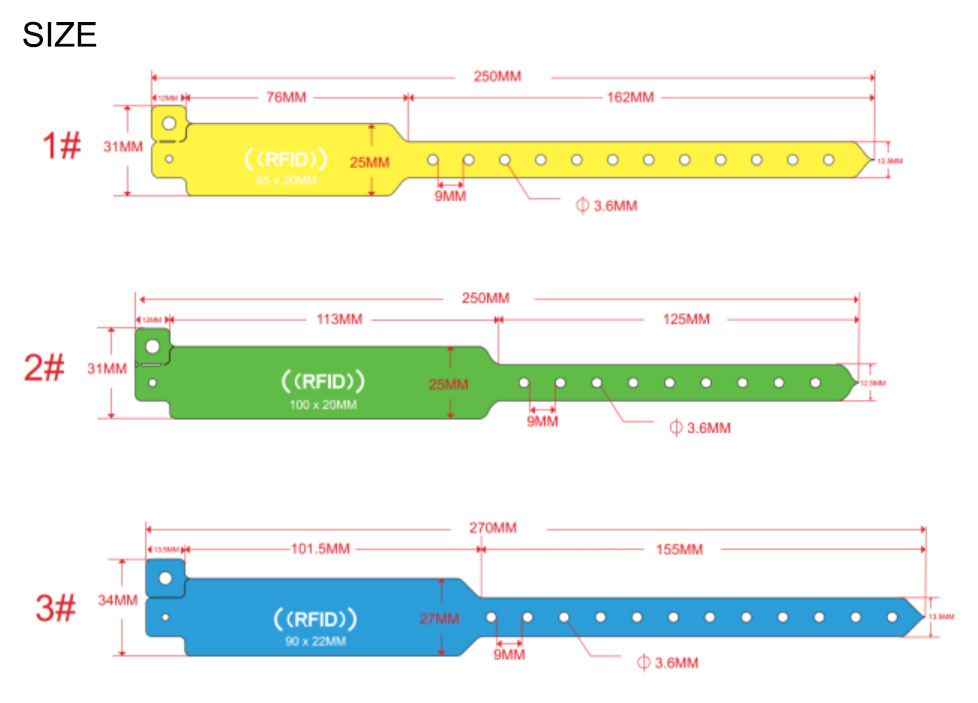 NFC Type 2, ISO14443A,

13.56MHZ

NTAG® 213 (144 bytes)

NTAG® 215 (504 bytes)

NTAG® 216(888 bytes)

NTAG® 210 (48 bytes)

NTAG® 212 (128 bytes)

NTAG®413 DNA (160 Bytes)

NTAG® are registered trademarks of NXP B.V. and are used under license.

NFC Type 2, ISO14443A, 13.56MHZ

MIFARE® Ultralight® EV1 (48 Bytes)

MIFARE® Ultralight® C (148 byte)

MIFARE and MIFARE Ultralight are registered trademarks of NXP B.V. and are used under license.

NFC Type 4, ISO14443A, 13.56MHZ

MIFARE® DESFire® 2K / EV1 2K / EV2 2K

MIFARE® DESFire® 4K / EV1 4K / EV2 4K

MIFARE® DESFire® 8K / EV1 8K / EV2 8K

MIFARE DESFire are registered trademarks of NXP B.V. and are used under license.

ISO14443A, 13.56MHZ

MIFARE® Classic 1K Bytes

MIFARE® Classic 4K bytes

MIFARE and MIFARE Classic are registered trademarks of NXP B.V. and are used under license.

MIFARE Plus® S 1K

MIFARE Plus® S 1K SE

MIFARE Plus® S 2K / S 4K

MIFARE Plus® X 2K / X 4K

MIFARE Plus® EV1 2K / 4K

MIFARE and MIFARE Plus are registered trademarks of NXP B.V. and are used under license.

ISO15693/ISO18000-3, 13.56MHZ

NXP® ICODE® SLI (1Kb)

NXP® ICODE® SLI-X (1Kb)

NXP® ICODE® SLI-S (2Kb)

NXP® ICODE® SLI-L (512b)

ICODE® are registered trademarks of NXP B.V. and are used under license.

125KHZ

TK4100, EM4200, T5577, EM4305

860MZH-960MHZ, 18000-6C

Alien H3, Impinj, Ucode GEN2
We could not find any corresponding parameters, please add them to the properties table
Related products

PRODUCTO