PRODUCTOS
And we specialize in customized wristbands
Custom Printing NFC Elastic wristbands with NTAG213
[[[[[[[[[[[[[[[[[[[[[[[[[[[[[[[[[[[[[[[[[[[[[[[[[[[[[[[[[[[[[[[[[[[[[[[[[[[[[[[[[[[[[[[[[[[[[[[[[[[[[[[[[[[[[[[[[[[[[[[[[[[[[[[[[[[[[[[[[[[[[[[[[[[[[[[[[[[[[[[[[[[[[[[[[[[[[[[[[[[[[[[[[[[[[[[[[[[[[[[[[[[[[[[[[[[[[[[[[[[[[[[[[[[[[[[[[[[[[[[[[[[[[[[[[[[[[[[[[[[[[[[[[[[[[[[[[[[[[[[[[[[[[[[[[[[[[[[[[[[[[[[[[[[[[[[[[[[[[[[[[[[[[[[[[[[[[[[[[[[[[[[[[[[[[[[[[[[[[[[[[[[[[[[[[[[[[[[[[[[[[[[[[[[[[[[[[[[[[[[[[[[[[[[[[[[[[[[[[[[[[[[[[[[[[[[[[[[[[[[[[[[产品参数, 参数]]]]]]]]]]]]]]]]]]]]]]]]]]]]]]]]]]]]]]]]]]]]]]]]]]]]]]]]]]]]]]]]]]]]]]]]]]]]]]]]]]]]]]]]]]]]]]]]]]]]]]]]]]]]]]]]]]]]]]]]]]]]]]]]]]]]]]]]]]]]]]]]]]]]]]]]]]]]]]]]]]]]]]]]]]]]]]]]]]]]]]]]]]]]]]]]]]]]]]]]]]]]]]]]]]]]]]]]]]]]]]]]]]]]]]]]]]]]]]]]]]]]]]]]]]]]]]]]]]]]]]]]]]]]]]]]]]]]]]]]]]]]]]]]]]]]]]]]]]]]]]]]]]]]]]]]]]]]]]]]]]]]]]]]]]]]]]]]]]]]]]]]]]]]]]]]]]]]]]]]]]]]]]]]]]]]]]]]]]]]]]]]]]]]]]]]]]]]]]]]]]]]]]]]]]]]]]]]]]]]]]]]]]]]]]]]]]]]]]]]]]]
Elastic NFC wristbands with NTAG213 chip, 144byte, the most popular rfid chip in the market, it would be read by all NFC devices.
This nfc elastic wristband with elastic cool feature, can fit to any people.
Nylon material for long term using, a small rfid PPS tag inside waterproof, can make the NTAG213 nfc elastic bracelet meet your long term application too.
This PPS tag would be replaced by a soft NFC PET tag, if PPS tag thickness too thick for you.
SunwayRFID provide OEM service, you can design your own elastic nfc bracelet, and we can product it in 7 working days, for within 2K.
Details Description for Elastic NFC wristbands with NTAG® 213:
Material: Elastic Nylon (Fabric)
Size: Wristband: 17.5 circle x 2.5mm width
20mm round NFC tag embedded
Chip: NTAG® 213(144 bytes) (Other chip see the chips sheet)
Frequency: 13.56MHZ
Protocol: ISO14443A
Reading range: 1Cm - 5CM, relative with readers.
Datas program: Variable numbers, URL, texts, etc, read only, encrypted, except 125kzh.
Craft: Epoxy, logo printing, datas program, QR code, numbers printing, custom package.
Working environment: -25℃ to 70℃
Application: widely used on party, music festival, campuses, amusement parks, access control areas, concerts, and tickets and so on.
Our Services:
3-5 days fast samples making
Custom datas program
OEM/ODE capability. Custom size, shape, printing and material all available.
Size & Product Overview: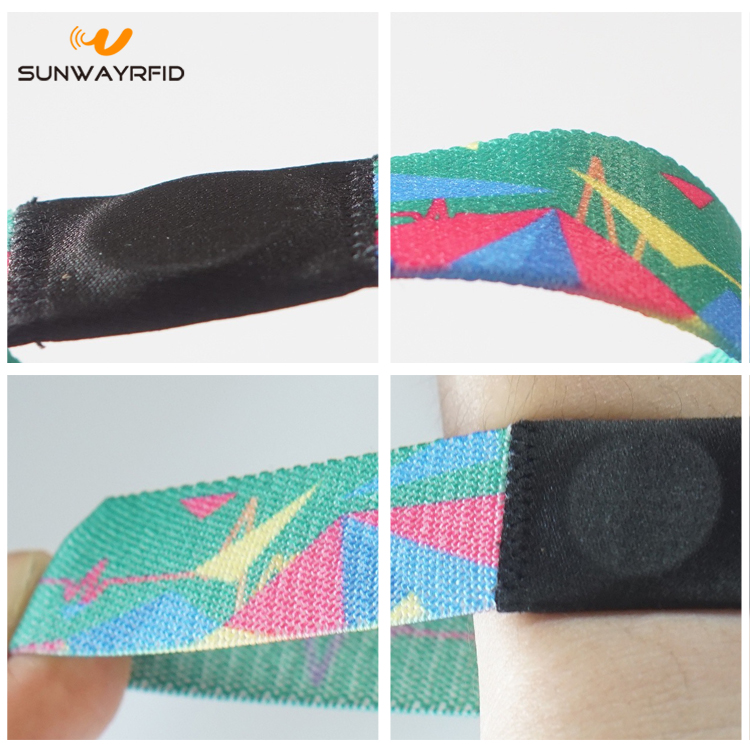 We could not find any corresponding parameters, please add them to the properties table
Related products

PRODUCTO