PRODUCTOS
And we specialize in customized wristbands
ACR122U NFC Reader and Writer with Free Software
ACR122U NFC Reader and Writer with Free Software
[[[[[[[[[[[[[[[[[[[[[[[[[[[[[[[[[[[[[[[[[[[[[[[[[[[[[[[[[[[[[[[[[[[[[[[[[[[[[[[[[[[[[[[[[[[[[[[[[[[[[[[[[[[[[[[[[[[[[[[[[[[[[[[[[[[[[[[[[[[[[[[[[[[[[[[[[[[[[[[[[[[[[[[[[[[[[[[[[[[[[[[[[[[[[[[[[[[[[[[[[[[[[[[[[[[[[[[[[[[[[[[[[[[[[[[[[[[[[[[[[[[[[[[[[[[[[[[[[[[[[[[[[[[[[[[[[[[[[[[[[[[[[[[[[[[[[[[[[[[[[[[[[[[[[[[[[[[[[[[[[[[[[[[[[[[[[[[[[[[[[[[[[[[[[[[[[[[[[[[[[[[[[[[[[[[[[[[[[[[[[[[[[[[[[[[[[[[[[[[[[[[[[[[[[[[[[[[[[[[[[[[[[[[[[[[[[[[[[[[[[[[产品参数, 参数]]]]]]]]]]]]]]]]]]]]]]]]]]]]]]]]]]]]]]]]]]]]]]]]]]]]]]]]]]]]]]]]]]]]]]]]]]]]]]]]]]]]]]]]]]]]]]]]]]]]]]]]]]]]]]]]]]]]]]]]]]]]]]]]]]]]]]]]]]]]]]]]]]]]]]]]]]]]]]]]]]]]]]]]]]]]]]]]]]]]]]]]]]]]]]]]]]]]]]]]]]]]]]]]]]]]]]]]]]]]]]]]]]]]]]]]]]]]]]]]]]]]]]]]]]]]]]]]]]]]]]]]]]]]]]]]]]]]]]]]]]]]]]]]]]]]]]]]]]]]]]]]]]]]]]]]]]]]]]]]]]]]]]]]]]]]]]]]]]]]]]]]]]]]]]]]]]]]]]]]]]]]]]]]]]]]]]]]]]]]]]]]]]]]]]]]]]]]]]]]]]]]]]]]]]]]]]]]]]]]]]]]]]]]]]]]]]]]]]]]]]]
ACR122U nfc reader in stock, ready to ship once order confirmed!
This ACR122U reader from ACR, support to ISO 14443 Type A and B, MIFARE®, FeliCa, and all 4 types of NFC (ISO/IEC 18092) tags.
With your purchase the RIFD NFC reader, you will get free software for your Wins or MAC.
Very simple operate preform, easy to do read and write your NFC tag with this 13.56MHZ RFID Reader.
The ACR122U RFID reader easy operation but strong power make it popular using in e-Government, e-Banking, e-Payment, e-Healthcare, Transportation, Network Security, Access Control and Loyalty Program and so on application.
SunwayRFID is doing RFID nfc reader inventory, always ready to ship once order confirmed.
Technical information:
Dimensions
98.0 mm (L) x 65.0 mm (W) x 12.8 mm (H)
Weight
70.0 g
Compliance / Certifications
ISO 18092, ISO 14443, PC/SC, CCID, EN60950/ISO 60950, CE, FCC, MIC, KC, VCCI, RoHS 2, USB Full Speed, Microsoft® WHQL
Interface
USB Full Speed
Operating Distance
Up to 50 mm (depends on the tag type)
Supply Voltage
Regulated 5V DC
Supply Current
200mA (operating); 50mA (standby); 100mA (normal)
Operating Temperature
0-60 °C
Operating Frequency
13.56 MHz
Smart Card Interface Support

ISO14443 Type A & B
MIFARE
FeliCa
4 types of NFC (ISO/IEC18092) tags

Operating System Support

Windows®
Win CE 5.0 and 6.0
Linux®
Mac OS®
Android™ 3.1 and above
NOTES
The ACR122U drivers are very low-level and require technical expertise. No technical support is available.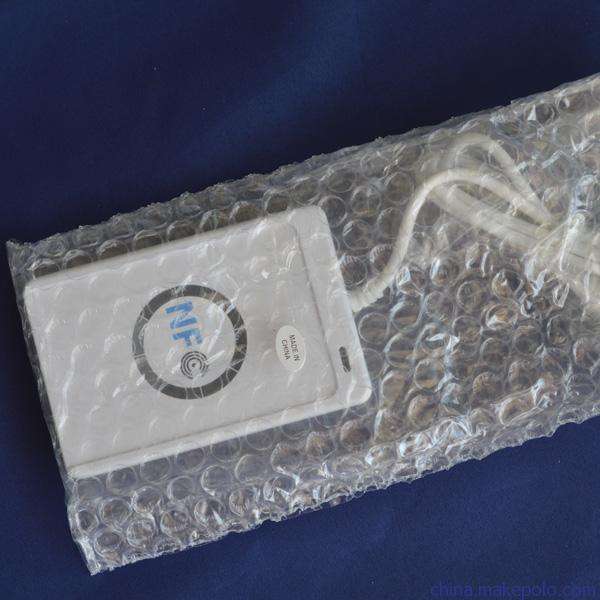 We could not find any corresponding parameters, please add them to the properties table
Related products

PRODUCTO